Engagement Photography Session on the North Shore of Pittsburgh
My, my! I'm not good about keeping up with blogging about my photography while traveling. I've been away from Pittsburgh and eating a lot of turkey over the last week while catching up with family in Ohio, West Virginia and central Pa., so it's been busy, but I'm getting back in the saddle now until it's time to do it all over again for Christmas. I just love this time of year and I'm so thankful for some time well spent with family. Anyway, this post is from an engagement session in October that took place at Riverview Park and Pittsburgh's North Shore. Katie and Dan are getting married in Uniontown in July next year, but they wanted their engagement session to take place in Pittsburgh where they're planting some roots.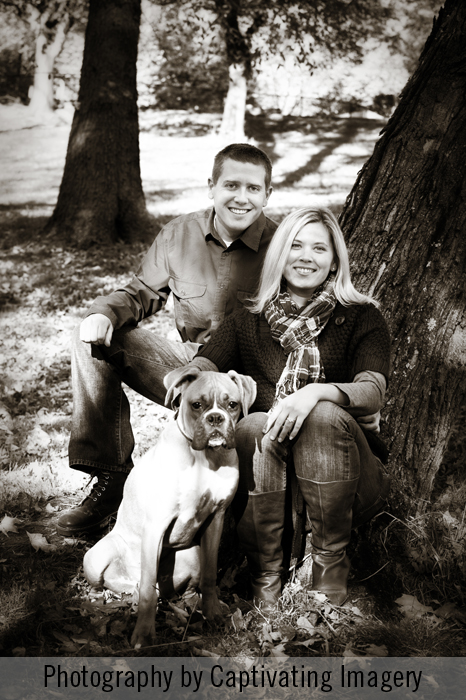 They wanted to bring along their dog, Murray, and arranged for Dan's sister to take him home after about 20 minutes. And that worked pretty well. I'm a dog lover, so I totally get why they wanted to include their four-legged family member. But I also know that adding an animal to a photo session can complicate things when you only have so much time before the sun sets. Murray was well behaved and 20 minutes was the perfect amount of time to get a variety of shots with him. And this one above is just as much a portrait of Murray as it is of Katie and Dan. I just love how he is staring into the camera.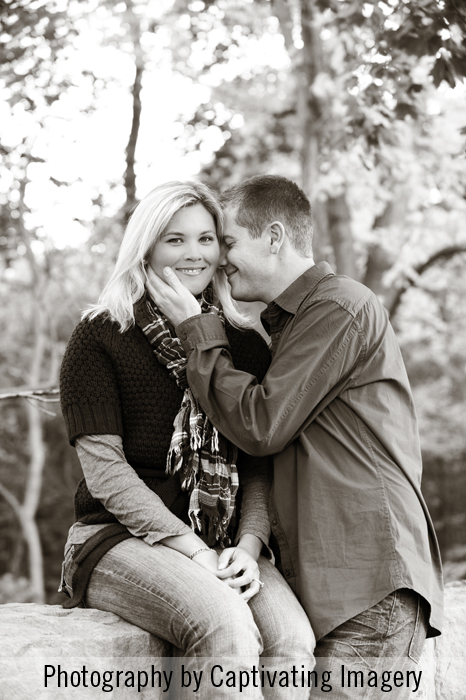 I think I'm in a black and white mood today. So here's another one of this cute couple just seconds later.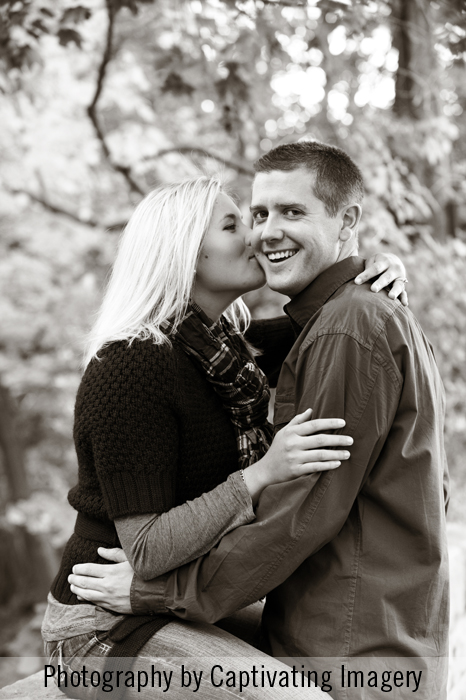 Ok, that's enough of the black and white for now. This is a fall engagement session after all.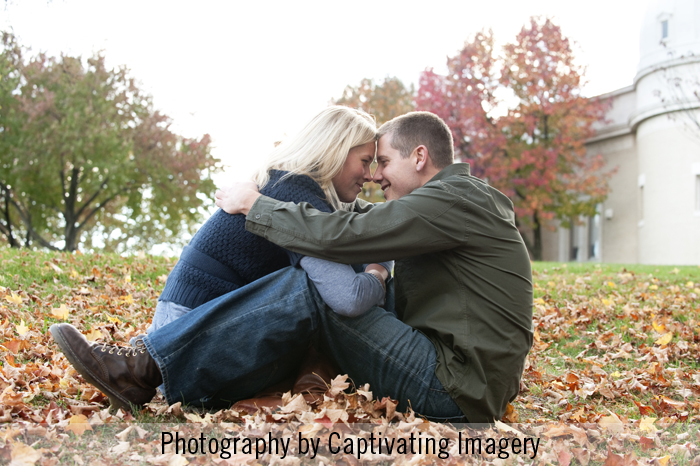 Thanks to Katie and Dan for their flexibility on that last one! That came from an idea I had that would be better suited for two gymnasts – but they made something cute out of it!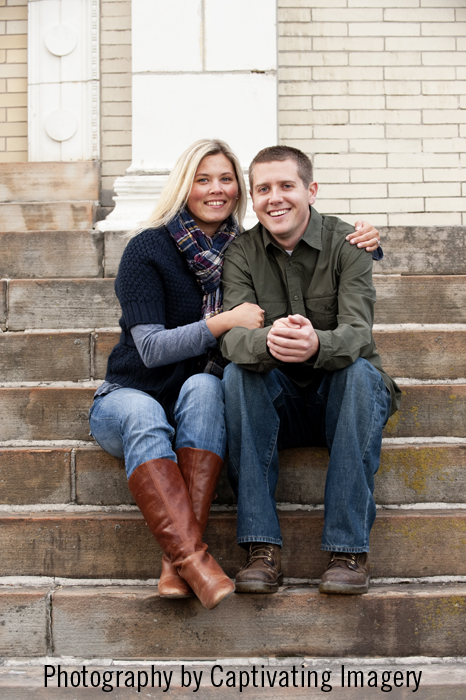 Here they're seated on the stairs of the Allegheny Observatory which can be seen in the background of the previous photo. It's a pretty cool building and it's partly under restoration now.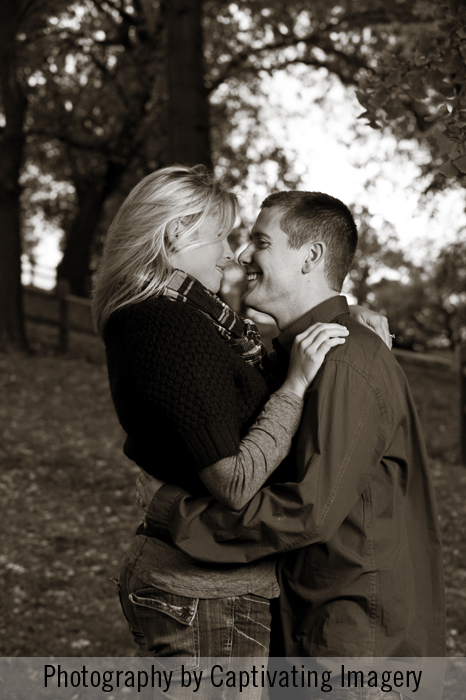 After about an hour at Riverview Park, we headed downtown to the North Shore. We just missed sunset, but were able to make the most of the gorgeous twilight and view from the Roberto Clemente Bridge.
This is our take on Pittsburgh's version of a moonlight tango by the bridges in Boston. So fun! I wish we really did have a moonlight tango dance in Pittsburgh.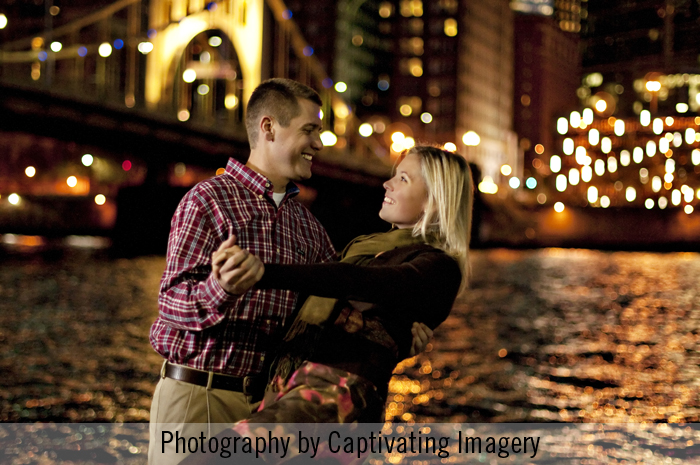 It was pretty cold after sunset by the river, but Katie and Dan are real troopers. When I'm loving what I'm doing, I get lost in the moment, so I didn't feel the cold until we wrapped up the shoot.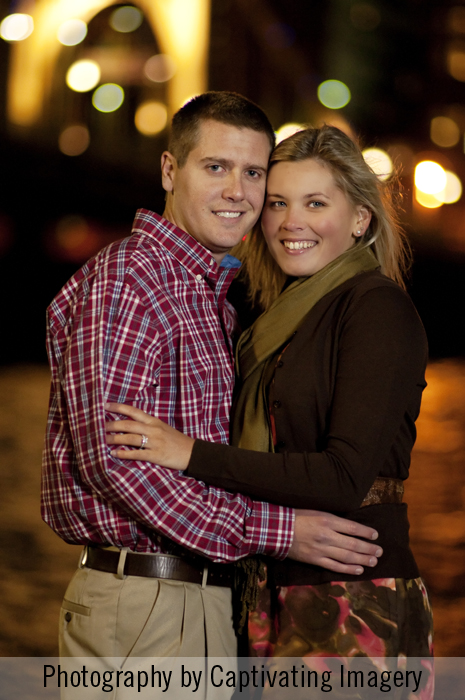 Not far from there is the Pittsburgh River Safety Center. What a perfect setting for a late night photo shoot!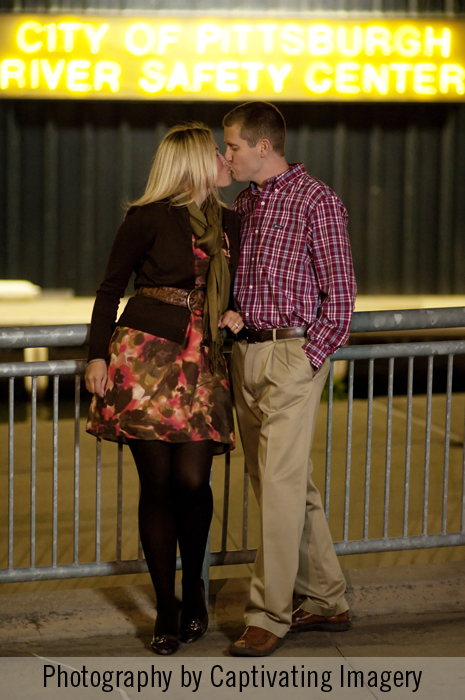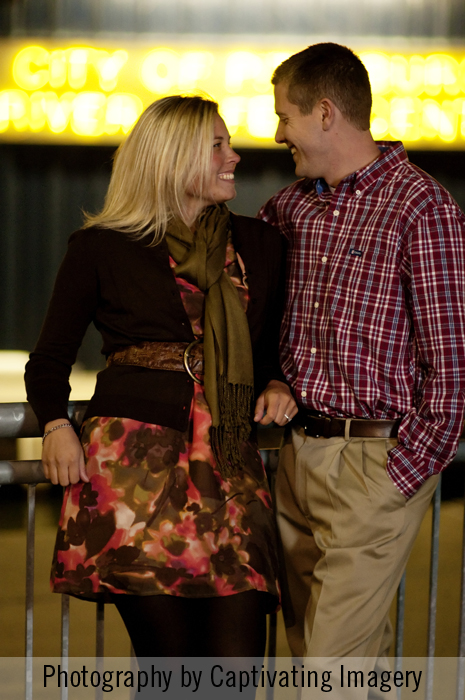 Katie and Dan, what a pleasure it was to spend an evening with you! Looking forward to your wedding in July!