HDR photography
I'm preparing a presentation on HDR photography and thought it might be nice to share some highlights ~
HDR photography stands for high dynamic range, meaning that the range of tonal values in a photograph is greater than what can be achieved in a single exposure. This is accomplished by merging together multiple exposures. The result more accurately represents the scene as seen by the human eye. Our eyes are able to see a much greater range of tones than one exposure can possibly record. However, it's anticipated that someday cameras may have the capability to capture an HDR image in one exposure.  And that day may be here sooner than we think!
To create an HDR photo, you need to use a tripod so that the multiple images are in exactly the same position. You can use a function on your camera to take a series of under- and over-exposed images or you could manually under and over expose subsequent images in varying increments of a stop, a third of a stop, etc. You can use three, five, seven or any number of exposures to create the HDR image. Although, the higher number of images merged, the longer it will take and the larger the file will be.

To merge the photos, you can use Photoshop or other programs that include tone mapping, such as Photomatix Pro. In Photoshop, you go to File, Automate, Merge to HDR, and select the photos you would like to merge. Photoshop will automatically align the images and create the HDR image. I like to use Lightroom and export the photos to Photomatix Pro, which also aligns and merges them. I purchased Photomatix Pro, so that I could refine the HDR images with tone mapping. The amount of information you have in an HDR image can be overwhelming and it doesn't always look good. With tone mapping, you can choose to condense and expand qualities of the HDR image to either represent the vision of the photo in your mind's eye or the true to life scene, as seen by the human eye.
Here's the finished version of the organ at St. Paul's Cathedral in Pittsburgh's Oakland neighborhood: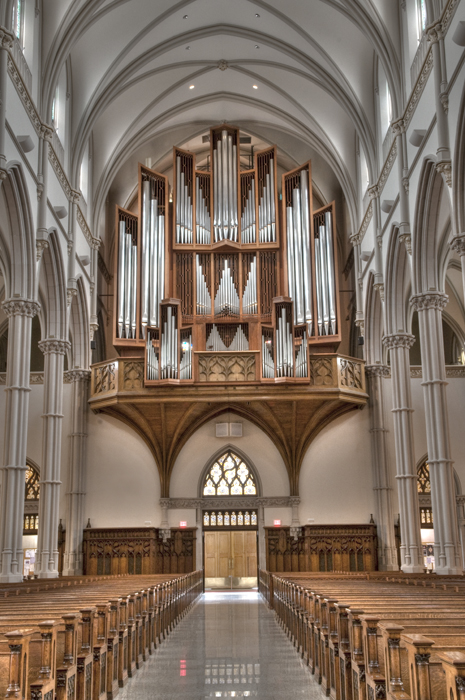 The best subjects for HDR photography are those that don't move, such as landscapes or architecture. People are generally not a good subject for HDR, because of movement. However, you could simulate an HDR portrait by using one exposure and adjusting it and saving it at varying under- and over-exposed increments.